Homewatch CareGivers Franchise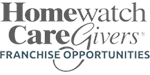 Homewatch CareGivers - Senior Care Franchise
Discover what it means to do great in your life, for your family, and within your community.
Finance requirements

Total Investment:

$90,000 - $140,000

Areas Available

Franchise units available throughout the United States.
Profile
Invest in a Unique Opportunity in the Home Care Industry
Homewatch CareGivers franchise locations provide home care and personal assistance to individuals who are aging, disabled or rehabilitating, which allows clients to remain living independently at home.
Through training and ongoing support from our team, each Homewatch CareGivers franchisee is equipped to deliver the exceptional care and proprietary programs that provide peace of mind to clients and their loved ones.
FRANCHISEE TESTIMONIALS
"I am so grateful to own a Homewatch CareGivers Franchise! We touch people's lives every day through the positive work that we do by helping those in need and providing jobs to caregivers."
Kathryn, Parks – Ellicott City, MD
"I've had many successes in my past career, but none have been more rewarding than giving back to my local community."
Tanya Finnerty – San Diego, CA
Discover What It Means To Do Great In Your Life, For Your Family, And Within Your Community
In 1980, Homewatch CareGivers was founded on the principle of delivering high-quality and compassionate care to people who needed home care services. The company eventually began franchising in the mid-1990's after identifying a greater need for quality home care services throughout the country. 
From providing the assistance that helps people age, rehabilitate, or recover at home, to enhancing quality of life by including clients in their own care decisions, to giving peace of mind to clients' loved ones, our home care Franchisees leave a lasting impact on their communities.
Average Franchisee Gross Revenues
$1,380,552 in 2017*
The Homewatch CareGivers Difference
A Powerful Approach to Care
Our care approach is based on a person-directed care philosophy, the emphasis of which is on helping an individual to the best of their current abilities so that they continue to feel empowered.
We Use High Tech to Support our High-Touch Care Approach
Our custom business-management system aids in our approach to care by recording social history, implementing a custom care plan, and tracking outcomes to report back to client families and referral sources.
Unique Business Intelligence Tools
We have created unique Business Intelligence tools to help owners focus on business priorities and diagnose problems and opportunities.
Our Signature Care to Stay Initiative includes best practices in Caregiver Recruitment and Retention
Recruiting and retaining the best talent is a top priority for our support team and for our franchise owners
A More Effective Client Acquisition Model
Our support team works with franchisees individually to identify potential target markets to better focus their marketing and field sales efforts
Strong Financial Results
We invest in the long-term success of our franchisees, focus on profitable growth, and offer best in class training, conferences, and technology.
Please complete the form below to request more information.
*The average gross revenue number was derived from gross revenue reported to us by 87 Homewatch CareGivers franchisees who operated a total of 165 territories and who reported gross revenues greater than $0 for all 12 months of the fiscal year 2017. Twenty-seven (or 31%) of the reporting franchisees have earned gross revenues in the amount reported above or greater. The franchisees' sales information is not audited. Your individual results may differ. See Item 19 of our 2018 Franchise Disclosure Document ("FDD") for further details.